---
**LATEST UPDATES**
8 Nov 2023 – We are pleased that the latest update to the Retained EU law dashboard shows the status of the Work at Height Regulations remains unchanged.
29 June 2023 – Retained EU Law (Revocation and Reform) Act 2023 given Royal Assent. Read our latest statement >
21 June 2023 – The third debate has taken place in consideration of the Lords' amendments to the Retained EU Law Bill. The Lords' amendments were defeated again in the Commons, meaning the Bill will now return to the Lords. The amendments will be redrafted in a bid to gain enough support to pass the House of Commons.
13 June 2023 – On 12 June, the Solicitor General for England and Wales, Michael Tomlinson MP, led a debate in the House of Commons on the consideration of three amendments suggested by the House of Lords to the Retained EU Law (Revocation and Reform) Bill. MPs voted 269 to 204, majority 65, to reject a measure to ensure ministerial powers to revoke, replace or update retained rules from Brussels do not undermine current environmental protections. MPs later voted 269 to 202, majority 67, to reject a separate Lords amendment seeking greater parliamentary oversight of the retained EU legislation earmarked for the scrapheap. The bill will now return to the Lords where peers will weigh up whether or not they make another attempt to change its wording, as part of the parliamentary process known as ping-pong. Read the UK Parliament update here >
15 May 2023 – The House of Lords pass two amendments to the Bill. It's a step in the right direction, but despite press reports to the contrary, it doesn't mean the Work at Height Regulations are safe. The AIF releases a response and answers the question 'is it time to declare victory?' >
11 May 2023 – AIF release response to the Secretary of State for Business & Industry's statement yesterday, announced a change in the Government's approach to the 'sunsetting' of EU Retained Law. Read the AIF Statement here >
10 May 2023 – Secretary of State for Business & Industry, The Rt Hon Kemi Badenoch MP, announced a change in the Government's approach to the 'sunsetting' of EU Retained Law; "Today the Government is tabling an amendment for Lords Report, which will replace the current sunset in the Bill with a list of the retained EU laws that we intend to revoke under the Bill at the end of 2023. This provides certainty for business by making it clear which regulations will be removed from our statue book, instead of highlighting only the REUL that would be saved." Read the statement in full here >
In her statement, she further announced the regulatory reform update, 'Smarter Regulation to Grow the Economy', published today, which will be the first in a series of updates on how this Government intends to reform regulations to support economic growth.
9 May 2023 – The REUL Bill is scheduled to continue at report stage in the Lords on 15 and 17 May, according to Parliament's website.
5 May 2023 – Press speculation continues that the Government will retreat on their plans. There have also been "reassurances" from MPs and Ministers. But, until we have definite assurances that they won't be repealed, the industry must continue to make its voice heard.
19 April 2023 – AIF Chair Peter Bennett OBE comments on speculation in the press that the government could be about to retreat from its plan to scrap EU-derived laws, including the Work at Height Regulations. He spoke to Roofing Today on behalf of AIF members.
28 March 2023 – The AIF joined members of Parliament, other trade bodies and industry leaders in Westminster on 28 March 2023 to discuss the consequences of the Work at Height Regulations being repealed. AIF Chair Peter Bennett OBE, spoke on behalf of AIF members, telling attendees that we're seeking a categorical assurance that the regulations won't be repealed. You can read Peter Bennett's speech and the summary minutes of the meeting.
---
Background to the Retained EU Law (Revocation and Reform) Bill
A bill is currently making its way through UK Parliament that threatens to remove longstanding legal protections. After Brexit, laws from the UK's time in the European Union that regulate things like the environment, employment rights, health standards and consumer protection – to name a few – were carried over into UK domestic law and became known as retained EU law.
In September 2022, the Government signaled its intention to scrap these retained laws in an alarmingly short window of time under the Retained EU Law (Revocation and Reform) Bill – or REUL for short.
The Bill proposes to 'sunset' over 2,400 laws and the Work at Height Regulations is just one of them. There are many more within the health and safety category, with others set for the chop including the Manual Handling Operations Regulations and Personal Protective Equipment at Work Regulations.
There is a very good summary of the overall situation written by Dr Simon Joyston-Bechal and published in Safety & Health Practitioner in November 2022.
No one was calling for the repeal of the Work at Height Regulations. There was no campaign for reform; no one saying it's unfit for purpose or burdensome. In fact, guidance has been simplified over the years. There has been no consultation, no parliamentary scrutiny. The issue is simply that they originated from an EU directive, so are being swept up in this mass clear out of regulations – despite extensive UK stakeholder consultation taking place before they were created and being an established UK law for almost two decades.
If the Retained EU Law (Revocation and Reform) Bill passes, the whole lot will automatically be axed on 31 December 2023 unless the government takes action to save individual regulations.
---
The Work at Height Regulations
The Work at Height Regulations are important to anyone who works at height as part of their job. It's a daily occurrence, with an estimated 10 million of us climbing a ladder, ascending scaffolding or finding another way to work at height every year. This encompasses everyone from construction workers and steeplejacks to teaching assistants, shop workers and artists.
The Regulations set out what you need to do to manage risks from working at height, and provides a simple set of rules that prevent people from falling.
Without them, employers wouldn't have to ensure workers are competent, select suitable access equipment for each task or inspect that equipment regularly.
We'd also lose life-saving principles such as the need to prioritise collective fall prevention measures (like guardrails) over personal fall prevention measures (like harnesses) and to carry out work from ground level wherever possible.
---
Why we need the Work at Height Regulations
The need to address the specific risks involved in working at height has been recognised in legislation for nearly sixty years – but historically only covered the construction sector. The 2005 Work at Height Regulations was the major step change, with protection finally extended to people in all industries who work at height.
Falling from height is still the most common cause of workplace fatalities – there have been 683 since 2005. It also causes 8% of non-fatal injuries, according to statistics released by the Health & Safety Executive (HSE) just last week.
But in British workplaces, the number of falls from height has declined while the Work at Height Regulations have been in place. The year before they were introduced, there were 67 fatal falls, making up 29% of total fatalities. Last year, there were 29 fatal falls, which was 24% of total fatalities. Still 29 too many, but less than half what it was before the Regulations.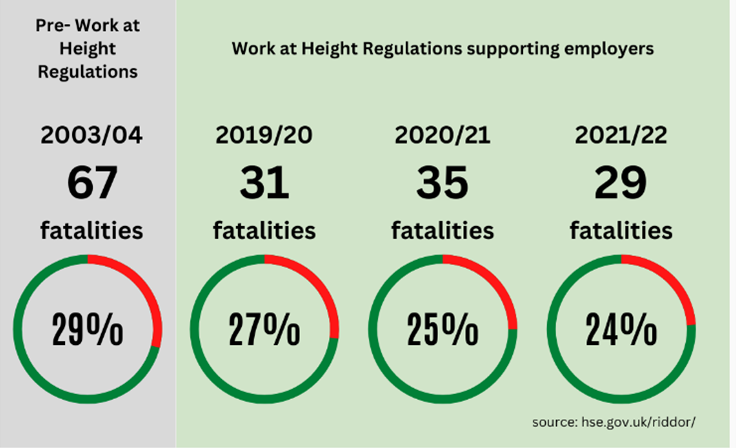 We cannot afford to take a backwards step.
Falls from height create devastated families and life-changing injuries. They lead to mental health problems, financial worries and long-term care needs.
The consequences can last a lifetime and they affect society as a whole. The annual cost to society is £620 million, which covers NHS spending, benefit payments and tax losses.
We need to do more to prevent falls from height, not weaken the protections that are already embedded in workplaces across the UK and have been working well for 17 years.
The UK is a world-leader in preventing falls from height and should be proud of our consistently low fatality rates and our internationally recognised expertise. The Work at Height Regulations are a cornerstone of our national strategy to prevent falls. But by the end of next year, they could be gone.
---
What can we do about it?
In November 2022, the Access Industry Forum (AIF) submitted written evidence to the House of Commons Public Bill Committee, which is now considering the Retained EU Law (Revocation and Reform) Bill.
The Access Industry Forum (AIF) unites the ten principal trade associations and federations involved in work at height: ATLAS, EPF, FASET, IPAF, IRATA, Ladder Association, NASC, PASMA, SAEMA and WAHSA.
Between us, we represent manufacturers, hire centres, suppliers, training companies and instructors and organisations providing work at height services. We are unanimous in our serious concerns about the impact of repealing vital health and safety legislation.
We are urging the committee to act now to exclude the Work at Height Regulations from the repeal. You can read our evidence in full.
Chair of the AIF, Peter Bennett OBE, has this to say:
"Employers don't want falls from height in their workplaces. They want their workers to be safe and free from harm. They also want to avoid the investigations, negative publicity, delays, increased insurance premiums and upheaval of responding to an accident. The Work at Height Regulations is a compact piece of legislation that creates a useful framework for employers to manage the risks and avoid falls from height. The rules are straightforward and practical, they're embedded in existing policies, procedures and training, and although they're not perfect, the most important thing is that they work. I'm in no doubt that the Work at Height Regulations have saved lives and if this legislation cannot be rescued from the scrapheap, it's workers who will pay the highest price of all."
---
SUPPORT THE CAMPAIGN
Please help us campaign to Save the Work at Height Regulations. If you've seen the effects of a fall, if you work at height or if you're responsible for the safety of others who work at height, it's time to take action. Here are 3 steps you can take:
Write to your MP and ask them to push for the Work at Height Regulations to be assimilated into UK law and excluded from 'sunset clauses' within the EU Law (Revocation and Reform) Bill
Share this article with colleagues, customers and your social media network, to help raise awareness of what could be coming our way
Subscribe to our newsletter so we can keep you updated as this campaign progresses
---
What if the Bill passes?
If the Bill passes without specific reassurances on health and safety legislation, the fight will begin to persuade ministers to replace the Work at Height Regulations (2005) with a new domestic law offering equal protection for workers, before the automatic expiry date kicks in on 31 December 2023 – or at the very least to allow a 'stay of execution', permitted until June 2026, to allow further consultation.
The big risk is this process could result in a 'watered down' version of the regulations, since the Bill allows replacement regulations to be made less burdensome but not more burdensome for employers and any changes can be pushed through without any stakeholder consultation or parliamentary debate.
That's why it's so important to act now. It's a crucial time for anyone involved in work at height, or with an interest in workers' safety in the UK, to speak up for the protections that have been afforded to us for so long.
Our message is clear: we must save the Work at Height Regulations and prevent an increase in needless falls from height.
---